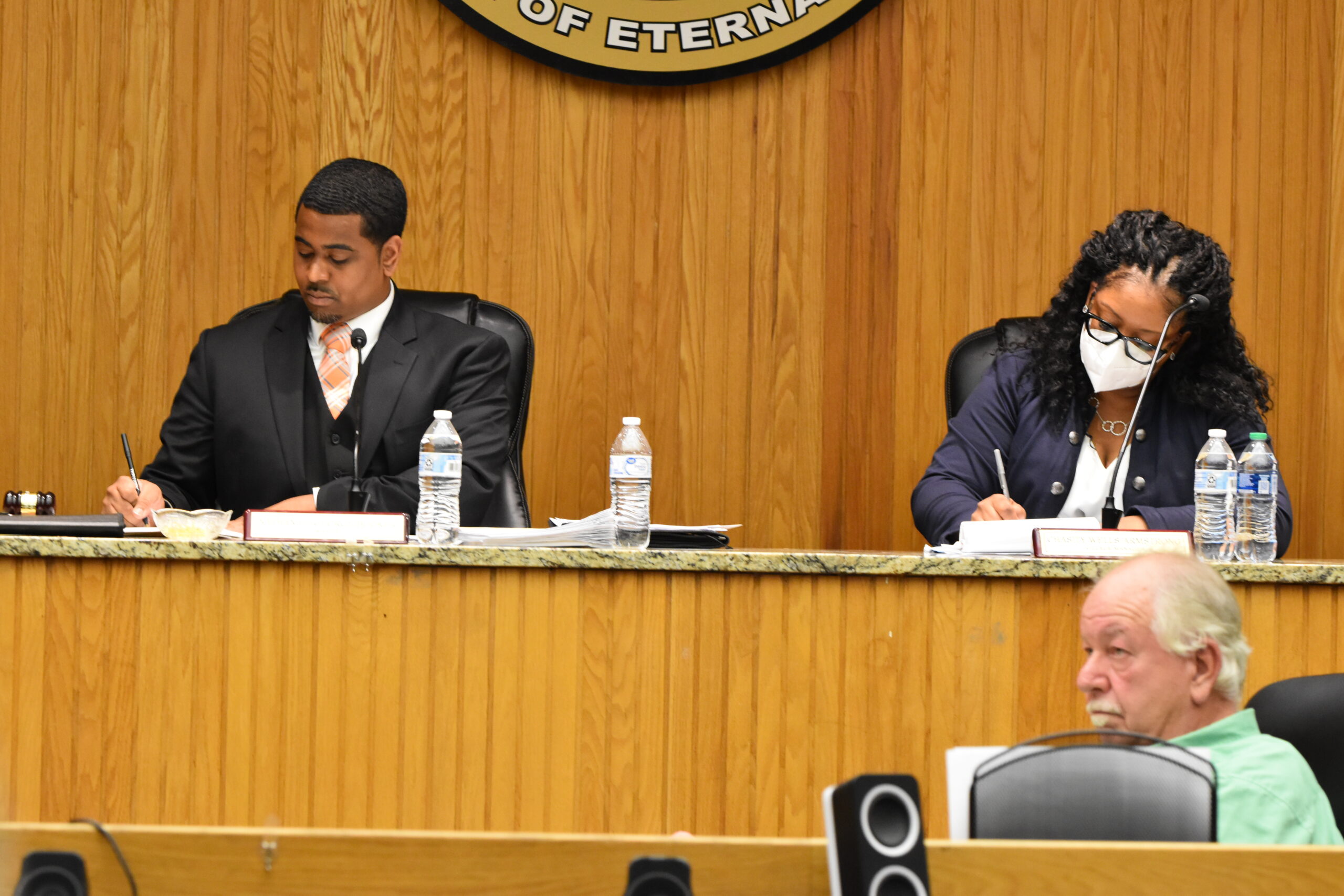 Maywood Mayor Nathaniel George-Booker and Manager Chasity Wells-Armstrong during a village board meeting earlier this month. | File 
Wednesday, June 8, 2022 || By Michael Romain || @maywoodnews 
During a special meeting on June 4, Maywood Board of Trustees appointed Maywood Police Chief Elijah Willis interim village manager while current Village Manager Chasity Wells-Armstrong is on paid administrative leave.
Things have changed, however, since that meeting, with multiple sources saying that Willis has declined the appointment, leaving Maywood with neither a permanent manager nor an interim. 
A special meeting scheduled for June 9 has been scheduled by some board members to discuss the possibility of appointing Lanya Satchell, the village's finance director, as interim village manager. 
Wells-Armstrong has been suspended since June 2. Her suspension happened after members of the village board learned the results of a third-party investigation into her allegations that Maywood Mayor Nathaniel George Booker created a hostile workplace for her and other employees, among other claims. The board has not discussed the details, citing personnel privacy concerns. 
The board is also looking to discuss on June 9 requiring the mayor to continue to work remotely and requesting that Mayor Nathaniel George Booker "immediately turn over the keys to the village vehicle." Booker was arrested on May 13 for DUI and obstructing traffic while driving the vehicle, which the village is currently leasing. The mayor has said he will publicly address the allegation later this month.
Maywood Trustee Isiah Brandon, who called the meeting, said that Booker has since returned to the makeshift office inside of the Wells-Armstrong's office suite at Village Hall, 40 Madison St., after they had ordered him to relocate following Wells-Armstrong's allegations. After plans to relocate the office to the Multipurpose Building, 200 S. 5th Ave., fell apart, the mayor had been working remotely. 
Wells-Armstrong, Booker or Willis could not be immediately reached for comment on Wednesday evening. But both Wells-Armstrong and Brandon said that the chief had turned down the position. 
The special meeting will take place Thursday, June 9, 8 p.m., inside of the Council Chambers, 125 S. 5th Ave. in Maywood.