Alice Thompson looks at the birthday car caravan from the window of her Berkeley home on March 17. | Michael Romain 
Thursday, March 17, 2022 || By Michael Romain || @maywoodnews 
Last year, the village of Berkeley celebrated Alice Thompson's 110th birthday with a caravan of emergency vehicles and village employees serenading the centenarian, who looked on the festivities through the window of her living room on the 1500 block of Victoria. 
This year, there was no serenading, but the Berkeley Fire Department paid Thompson a visit again, driving in another caravan, this time to celebrate her 111th birthday. 
Three of Thompson's 10 children were at home during the caravan on March 17 — the day Thompson was born in Flora, Miss. 
"Five of her children are still alive," said her daughter, Dorethea Graham, 79. Graham said her mother has lived with her in Berkeley for 12 years.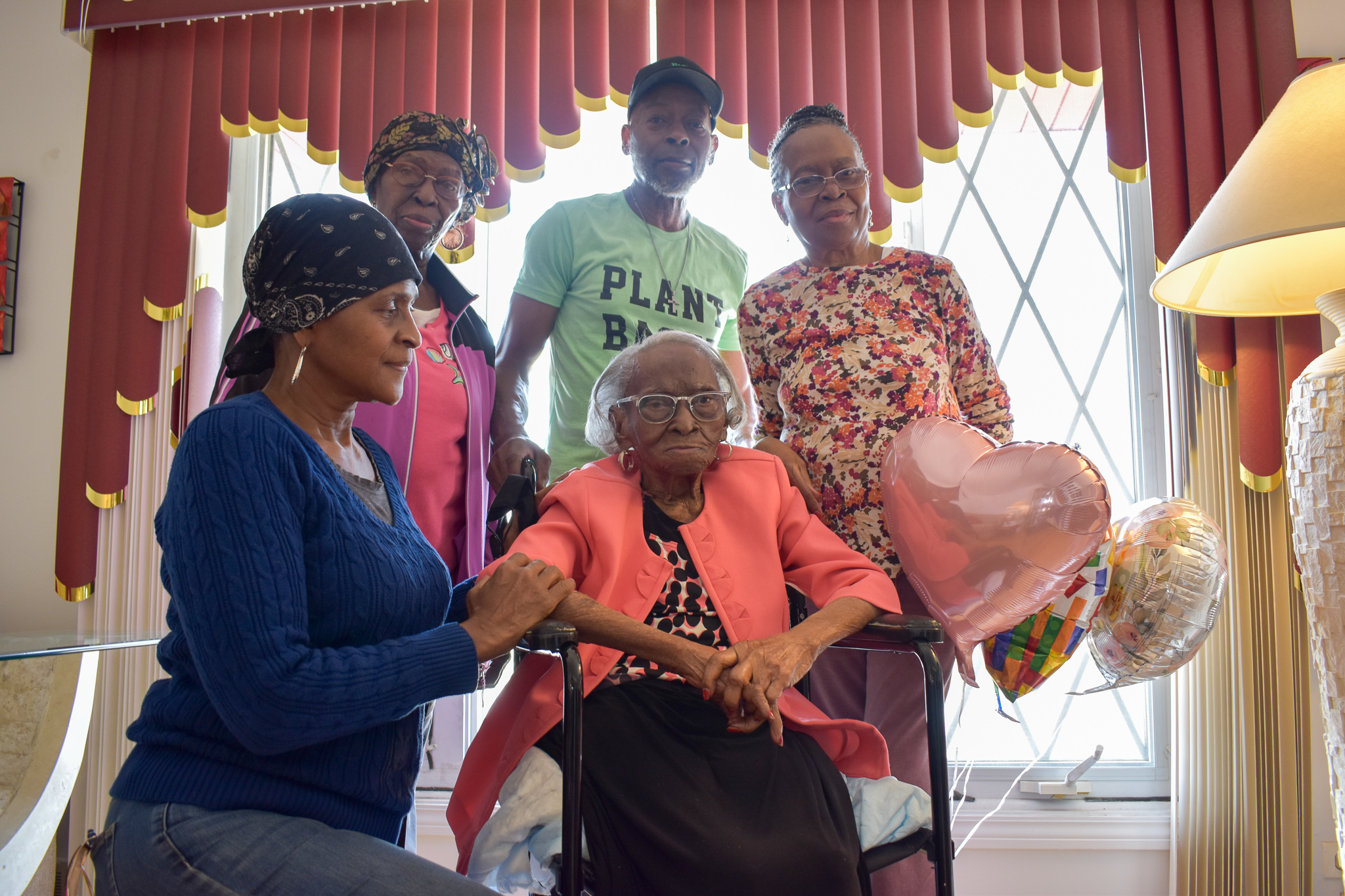 Alice Thompson surrounded by (left to right) Sheila Thompson, Rosie Jenkins, Jerome Thompson and Dorethea Graham inside of Graham's Berkeley home on March 17. | Michael Romain
"We migrated from Mississippi in 1955," Graham said. "She's got a bunch of children, grandchildren, great-grandchildren, nieces, nephews — so many we can't even count them." 
Thompson's oldest child, her 92-year-old daughter Rosie Jenkins, also joined her birthday celebrations. 
"I'm proud," Jenkins said, when asked how it feels to have a parent around at that age. 
Thompson's seen a lot. She's lived through two world wars and two pandemics. 
"Korea, Desert Storm, you name," Graham said. 
Berkeley firefighters ride past Thompson's home in Berkeley on March 17. | Michael Romain 
"Mayor Daley," said Thompson's son and youngest child, Jerome. 
When asked the secret to her longevity, Alice Thompson humbly deferred to a much higher power. 
"The Lord just let me live a long time," she said. 
In a way, the explanation given by her daughter-in-law, Sheila Thompson, during her mother-in-law's birthday celebration last year, still stands. 
"She loves the Lord, she eats good, she sleeps pretty good, she loves family and she loves friends," Sheila said. "She's also healthy. She just had her coronavirus vaccine shot."