Sunday, October 4, 2020 || By Michael Romain || @maywoodnews 
On Sept. 27, members of the Music Board at Westchester Community Church, 1840 Westchester Blvd. in Westchester, gathered in the church's parking lot to collect food and monetary donations that would go to the Westchester Food Pantry.
In normal times, before the COVID-19 pandemic, the church would be having its annual music extravaganza. This year, however, the music was served from someone's phone that piped spiritual tunes out and into the sunbathed fall air.
"We kept putting the musical off, because of the virus, so we said, 'Why don't we still have it. Let's play some music and have a food drive,'" said Barbara Mills. "We were trying to think of something we could do."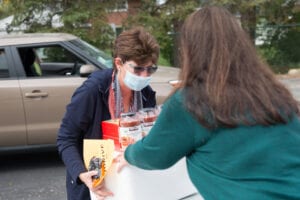 Members of Westchester Community Church collect food and supplies on Sept. 27, to give to the Westchester Food Pantry. | Shanel Romain 
Mill's husband, Pastor Joe Mills, said that the idea for a food drive couldn't be more timely, considering the explosive need for food and supplies in the Proviso Township area since the pandemic plunged the country into an economic recession and provoked an unprecedented unemployment crisis.
"I've talked to the people who run the pantry and they have consistently said there is a desperate need for basic supplies for people — paper goods, soap, that kind of thing," said the pastor.
Between July and September, the Westchester Food Pantry helped feed 1,011 families, a nearly 65 percent increase compared to the same time period last year, according to a statement on the Pantry's website.
The Pantry serves families from eight communities in Proviso Township — including Bellwood, Berkeley, Broadview, Hillside and Westchester — each Friday night, from 5:30 to 7:30 p.m.
During the first Friday in October, Pantry officials said, 89 families were served.
Barbara Mills, right, receives a donation from a community member during Westchester Community Church's donation drive on Sept. 27. | Shanel Romain 
"Since the start of the pandemic, the Pantry has received and distributed 81 tons of food, which equates to over 134,000 meals for our clients," according to the online statement.
Barbara Mills said on Sept. 27 that the church was slowly restarting live services in its sanctuary after roughly six months of worshipping by way of Zoom. That Sunday was its third live worship service since the pandemic shut down commenced in March. Despite returning to in-person worship, the church still Zooms its services for members at home, she said.
Barbara said that the first week back, there were just four worshippers in the sanctuary, the next week 12 congregants joined and that week there were roughly two dozen.
"On a regular Sunday, before the pandemic, we averaged between 50 and 75 people," Barbara said. "But it's been neat with the Zoom. We have people from Florida and North Carolina listening every week."
Kathy Marinier, a longtime church member, said that she's also appreciated the Zoom worship, but that she's happy to see her fellow congregants in person again.
Pastor Joe Mills, left, said that his church is helping to fill a growing need in the Proviso Township community by donating food and critical supplies to the Westchester Food Pantry. | Shanel Romain 
"We held off for a long time," she said. "Pastor was always very conscious of how to do it. We have a lot of older people, so the Zoom has been working wonderfully. We did the Zoom for like six months."
The 70-year-old church is more than a place of worship, Marinier said. It's a gathering place for community organizations and outreach efforts — from rummage sales to local Scout gatherings.
Kathy Marinier, a longtime member of Westchester Community Church, said that she's been enjoying the church's Zoom worship, but is also happy to see her fellow congregants in person again. | Shanel Romain 
Now, Pastor Mills said, the church is uniquely positioned to step up to help fill a desperate need as the pandemic rages on, particularly as it relates to getting food and supplies to area residents in need.
"I'd encourage people to volunteer to help the Pantry," the pastor said. "They always need people to help."
For more info on the Westchester Food Pantry, click here. For more info on Westchester Community Church, click here.