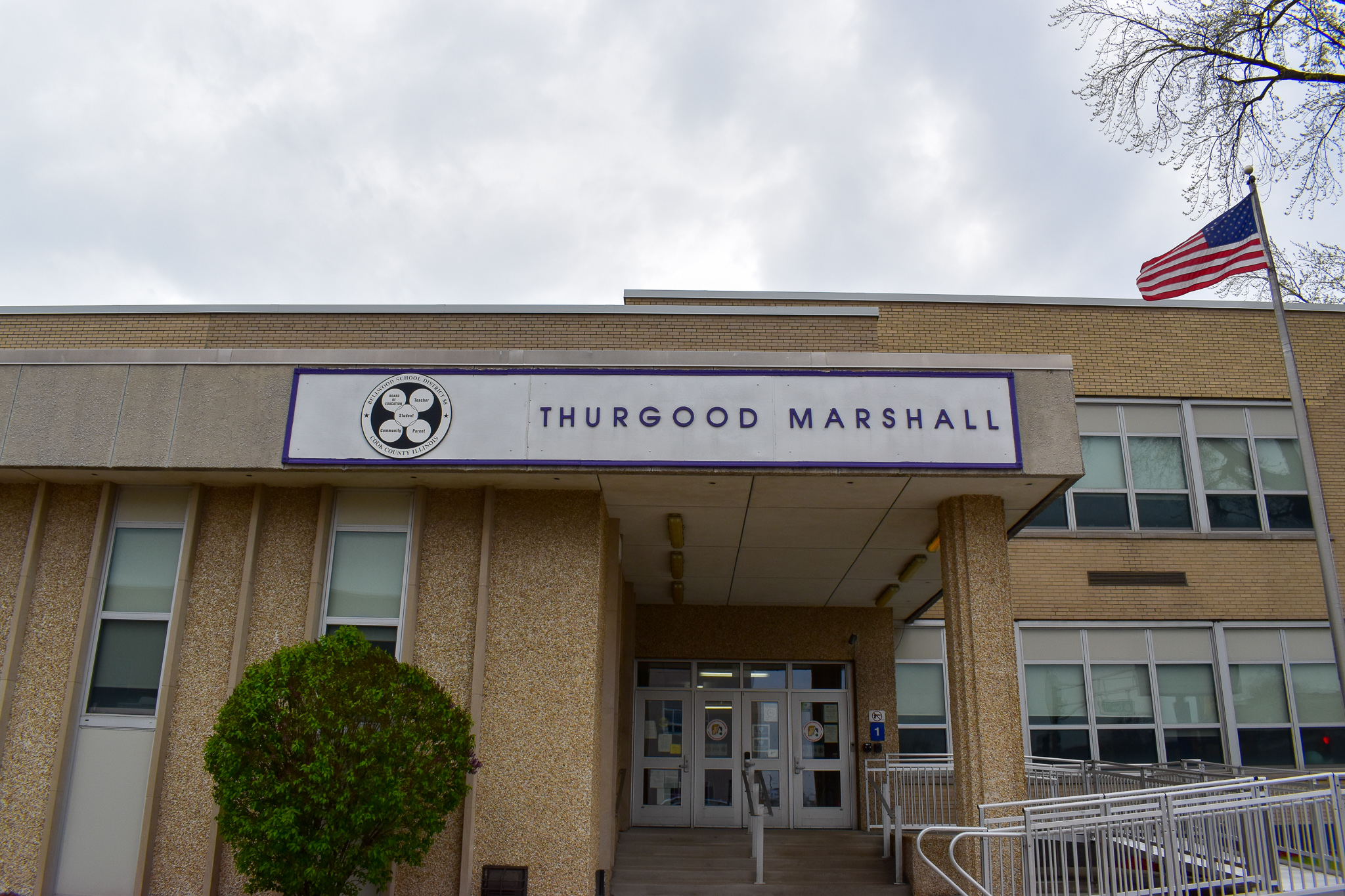 Thurgood Marshall Elementary School in Bellwood. On Monday, the Bellwood School District 88 administration will hand deliver bonuses. Monday is National Teacher Appreciation Day and the start of National Teacher Appreciation Week. | File 
Saturday, April 30, 2022 || By Michael Romain || @maywoodnews 
Bellwood School District 88 administrators will kickoff National Teacher Appreciation Week, which runs May 2 through May 6, by handing out retention bonuses to teachers and staff, D88 officials announced in a statement. National Teacher Day is Tuesday, May 3.
This year's commemoration comes amid a national teacher shortage. The Chicago Tribune reported on April 30 more than 2,100 certified teacher positions across the state that need to be filled, according to the Illinois State Board of Education.
Part of what's driving the shortage is low pay, experts say. On average, according to a recent report by the National Education Association, first-year teachers earned about $42,000 in the 2020-21 school year — a 4% drop from the previous year, when adjusted for inflation, the Tribune reported. 
"With an average teacher salary of $70,705, Illinois ranks 13th in the nation, according to the NEA report," the Tribune reported, adding that, on average, teachers are bringing home nearly $2,200 per year less than they did a decade ago. 
District 88 school board President Sondra McClendon said the bonuses in the district are "being given to thank staff for their hard work in helping the district transition back to in-person learning for the 2021-22 school year." 
Bellwood D88 Supt. Victoria Hansen, who was appointed by the school board earlier this month to replace retiring Supt. Mark Holder, said the bonuses are designed to show that the district values teachers and other staffers. 
"We value and appreciate our entire staff for all they do daily to provide an exciting, rigorous, and safe learning environment for our students," she stated. "Teachers and staff wear many hats. The progress we've seen over the past five years would not be possible without the hard work and dedication of our staff, We are #ONE88."
District 88 enrolls over 2,000 students and employs over 400 teachers and staff, district officials said. Within the district, this week is designated Teacher and Staff Appreciation Week. 
On Monday, Dr. Hansen and the district's administrative staff will tour all of the schools and hand deliver the bonuses to staffers. She said the incentives are being paid for with federal funds provided through the American Rescue Plan Elementary and Secondary School Emergency Relief program. 
On April 29, President Joe Biden issued a proclamation recognizing National Teacher Appreciation Day and National Teacher Appreciation Week. 
"To counter the negative impacts of the pandemic on student learning, our educators have returned to the classroom with creative solutions," Biden said. "They have partnered with communities to implement safety measures, increase students' access to mental health support, and equip them with critical life skills."