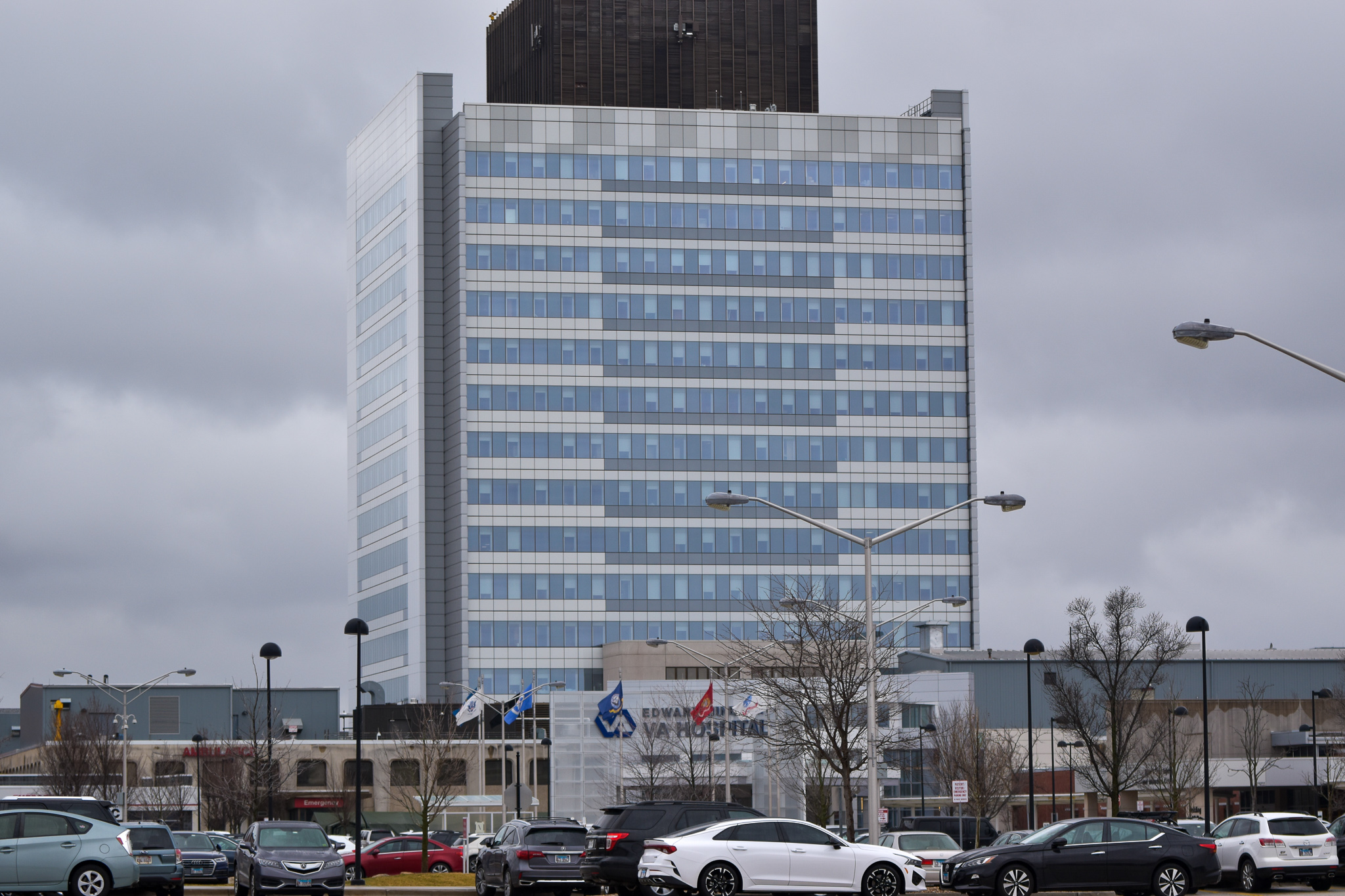 Edward Hines Jr. VA Hospital in Maywood. | File 
Saturday, March 19, 2022 || By Michael Romain || @maywoodnews 
Most of the 500-bed Edward Hines Jr. VA Hospital in Maywood could be rebuilt as part of a major revamping of veteran health care outlined in a recent Department of Veterans Affairs (VA) report.
The VA's Asset and Infrastructure Review (AIR) report, released March 14, recommends extensive physical renovations for the Hines campus, built in 1968 on 147 acres. The recommendations are far from final and depend on a complex, multilayered system of bureaucratic decision-making that will take years to play out, if anything happens at all.
"The current Hines [Veterans Affairs Medical Center] campus has ongoing facility challenges, high operating and maintenance costs, and several buildings that do not meet modern health care standards," the report concludes. 
The report added that the existing hospital needs about $528 million worth of repairs. VA officials estimate that annual operations and maintenance costs at the Maywood hospital are around $29 million. 
The VA is recommending that a brand new clinical facility be built at Hines to house a range of inpatient services, blind rehabilitation and rehabilitation medicine services, among other needs. 
The Chicago Tribune reported on March 17 that at least "some of Hines' current buildings, including the one that now includes most of the hospital's patient care, would remain for administrative use, said James Doelling, Hines' hospital director." 
The AIR report also recommends consolidating "leadership, administrative, logistics, and ancillary support services" at Hines and Jesse Brown VA hospital in Chicago into a single VA health care system with two separate VA hospitals. 
"The combination of leadership, administrative, and logistic services will allow for the repurposing of space for clinical and support services, streamlining operational costs, and improving operational efficiency," the report concludes. 
The report calls for the establishment of a mammography program at Hines. Currently, the women's clinic at the hospital doesn't offer any mammography services. 
"The women Veteran enrollee population in the market is projected to increase to more than 15,500 women Veteran enrollees" by 2029. 
In addition, the report recommends that Hines leaders establish a Facility Master Plan at the hospital designed to address infrastructure needs. 
"Most of the patient care buildings are well maintained but do not meet modern building physical standards. Other buildings on campus have dated interiors and outdated building systems and reflect a deferred maintenance mode of operation," according to the report. 
" A Facility Master Plan will provide a roadmap to address potential future options for renewal or replacement of these primary Hines facilities," the report adds. 
In a March 14 statement, VA officials said that an AIR Commission will conduct public hearings as part of a review process before submitting its recommendation to President Joe Biden for review next year. 
"The report's release marks the beginning of an in-depth deliberative process," VA officials stated. "The AIR report is the result of years of research and analysis intended to help VA build a health care network with the right facilities, in the right places, to provide the right care for all Veterans, including underserved and at-risk Veteran populations in every part of the country — making sure our facilities and services are accessible to Veterans in their communities."