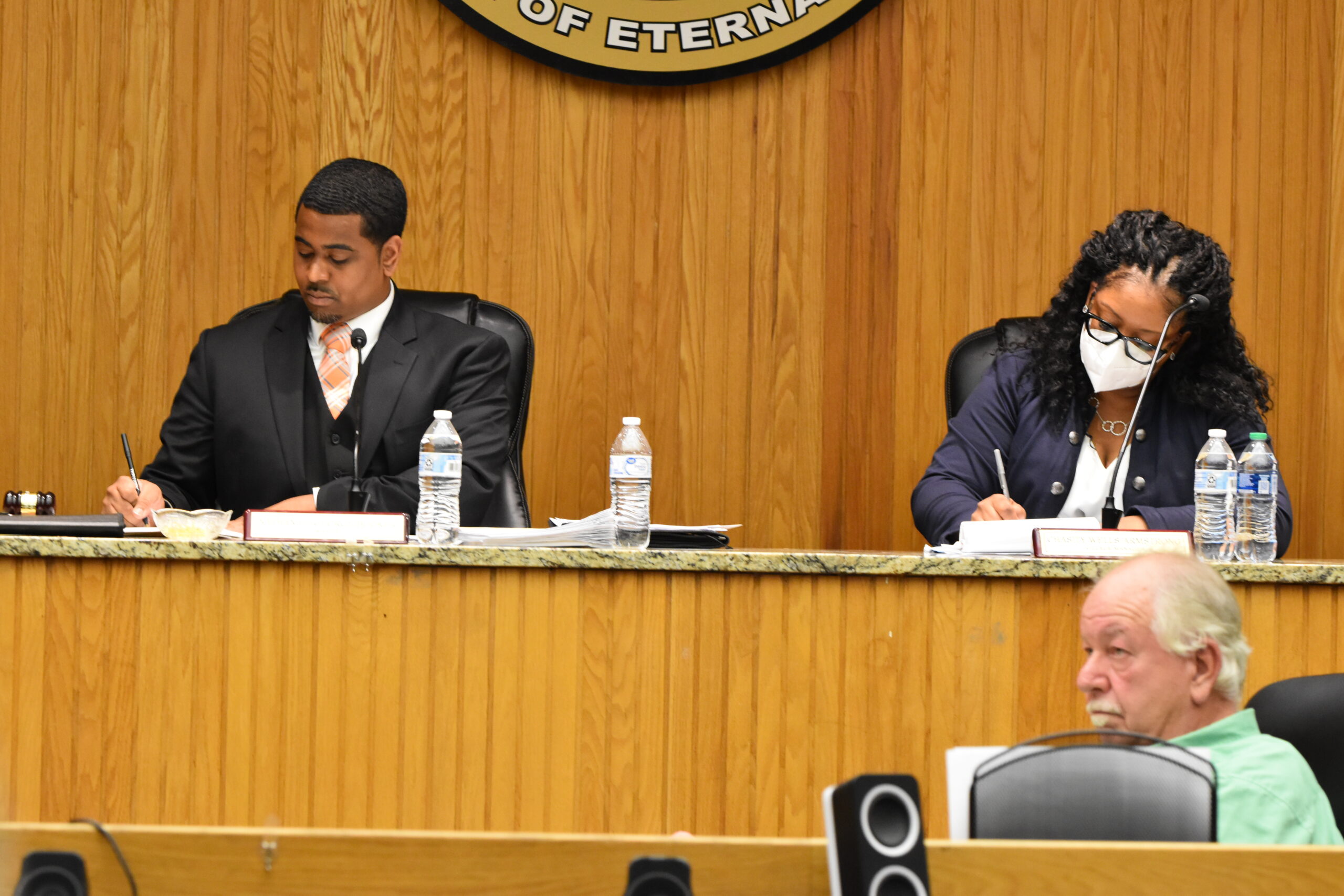 Maywood Mayor Nathaniel George Booker and Manager Chasity Wells-Armstrong during a special meeting on June 2, where the board voted 5-2 to suspend the manager. | Michael Romain 
Friday, June 3, 2022 || By Michael Romain || @maywoodnews 
During a special board meeting on June 2, the Maywood Board of Trustees voted 5-2 to suspend Village Manager Chasity Wells-Armstrong. 
The vote came after a special meeting that started at 8 p.m. and stretched beyond midnight, adjourning at around 2 a.m., according to those who were in attendance. 
Trustee Shabaun Reyes-Plummer said she was among a group of trustees who called the meeting in order to discuss the status of an investigation that the board voted for after a recommendation by former village attorney Michael Jurusik. 
During a regular meeting on April 19, the Maywood village board hired attorney Carol Herschman, of Herschman Levison Hobfoll PLLC, as an independent investigator to "examine allegations of workplace misconduct" made by Wells-Armstrong against Maywood Mayor Nathaniel George Booker. 
During the June 2 meeting, several trustees, including Trustee Aaron Pepper, said they did not know what the meeting was about before it was scheduled. Pepper and Trustee Isiah Brandon both voted against the motion to suspend Wells-Armstrong. 
After a public comment period in which multiple community members called on Mayor Booker to address his arrest on May 13 for DUI and obstructing traffic, the board briefly discussed the manager's employment status and the investigation before going into executive session for the next several hours. 
Booker said he won't address the charges publicly until June 21, at which point he will have gone to court. 
The board did not discuss any details regarding the manager's employment, citing personnel privacy matters. 
The June 2 meeting is just the latest development in an ongoing feud between the mayor and the manager, whose hiring last year he urged after foregoing a competitive search and over the protests of board members who pushed for more candidates. 
Wells-Armstrong has said that Mayor Booker wanted her to play second fiddle to him when it comes to the day to day operations of the village, a function that has traditionally been the purview of the manager since Maywood is a managerial form of government. 
Wells-Armstrong has also complained that Booker, who moved his office from above the police station at 125 S. 5th Ave. to a room adjacent the manager's office at Village Hall, 40 Madison St., has created a hostile work environment and caused confusion among village employees about to whom they should be reporting. 
For his part, Booker has said that Wells-Armstrong, — who has no background in municipal management but was mayor of Kankakee for a term before being hired in Maywood — has underperformed in the job, citing unfilled positions and employee turnover at Village Hall. 
Back in March, Booker tried to force the resignation of his hand-picked manager but that attempt was blocked by a majority of trustees, which also forced the mayor to consider moving his office out of Wells-Armstrong's office suite. 
The board had considered relocating the mayor's office into the Multipurpose Building at 200 S. 5th Ave. in Maywood, but that potential move conflicted with an intergovernmental agreement the village had with the Maywood Park District and was ultimately abandoned. Booker, who is a part-time mayor, has been without an office for several months, opting instead to work from home. 
Since the fallout between the mayor and the manager, Booker has apologized multiple times for his decision to hire Wells-Armstrong without a competitive search process.