Thursday, July 1, 2021 || By Michael Romain || @maywoodnews 
Officials with the Broadview-Westchester Joint Water Agency are looking to construct a 1 million-gallon above-ground reservoir on the site of the 10th Avenue pump station in Broadview. The site is also where the water agency is housed, in a building at 2222 S. 10th Ave.
The water agency — which provides water from Lake Michigan to properties in Broadview and Westchester, as well as Hines VA Hospital and Madden Mental Health Center in Hines, and Loyola University Medical Center in Maywood — has been discussing the need for additional water storage at the pump station site for at least several months now.
During a public meeting on May 19, representatives with Hancock Engineering and Ciorba Group Consulting Engineers, the firm the water agency contracted to provide professional engineering services for the reservoir project, explained the need for a new pump site.
"There's need for additional storage over there," said James Goumas, a principal with Hancock, Broadview's contracted engineering firm. "Right now, there are three underground water reservoirs over there that store one-and-a-half to two days of storage. There's been a need and it's been in the plan for a while."
Goumas said the pump station site has been fenced in since 2001, when the 9/11 attacks prompted government officials across the country to take extra security precautions. He said current regulations require for a new reservoir to be built above ground.
The site of the 10th Avenue pump station in Broadview, where officials are planning to build a 1 million-gallon water reservoir. | File 
Luke Mattson, the water resources project manager for Ciorba, said during the May meeting that the Illinois Environmental Protection Agency (IEPA), which regulates and facilitates permitting for the project, said the reservoir will be roughly 120 feet in diameter and about 10.5 feet from the ground to the middle of the reservoir.
State regulations require that half of the water column be above ground for maintenance purposes. Mattson said there's no getting around that requirement.
Broadview Mayor Katrina Thompson, who chairs the joint water agency (the agency board also includes Westchester Village President Frank Perry), said the reservoir will cost "just under $4 million" to construct.
"The Broadview Westchester Water Agency will use $2 million in agency cash to fund the project," she explained in an email.
She added that a parameters bond ordinance authorizes up to $3.3 million in bonds in order to refund an existing loan issued by the IEPA, and up to $2.3 million for construction of the new 1 million-gallon water reservoir.
Goumas said they may start going out to bid by September, with construction anticipated to be complete sometime toward the end of 2022. Goumas said that construction will impact the entire park when it starts next year.
"This is a critical construction need for the agency and the villages to make sure they can provide abundant water to their communities," he said. "This is a great opportunity to do it. We will do our best to minimize the impact, but we'll go forward."
Matt Ames, the Broadview Public Works director, said on May 19 that another reason why the new reservoir has to be built is because the city of Chicago mandated that if an agency is selling water the city supplies, it needs to have more than a day's supply in reserves.
But sometimes, Ames said, that reserve supply gets interrupted, such as when Broadview's 1.5 million-gallon water tower located near Village Hall was undergoing renovations.
"We started renovations late last summer," Ames said. "We did the interior, meaning we took it offline, we drained it, added some structural members to it, such as a ladder, and some other things it was lacking."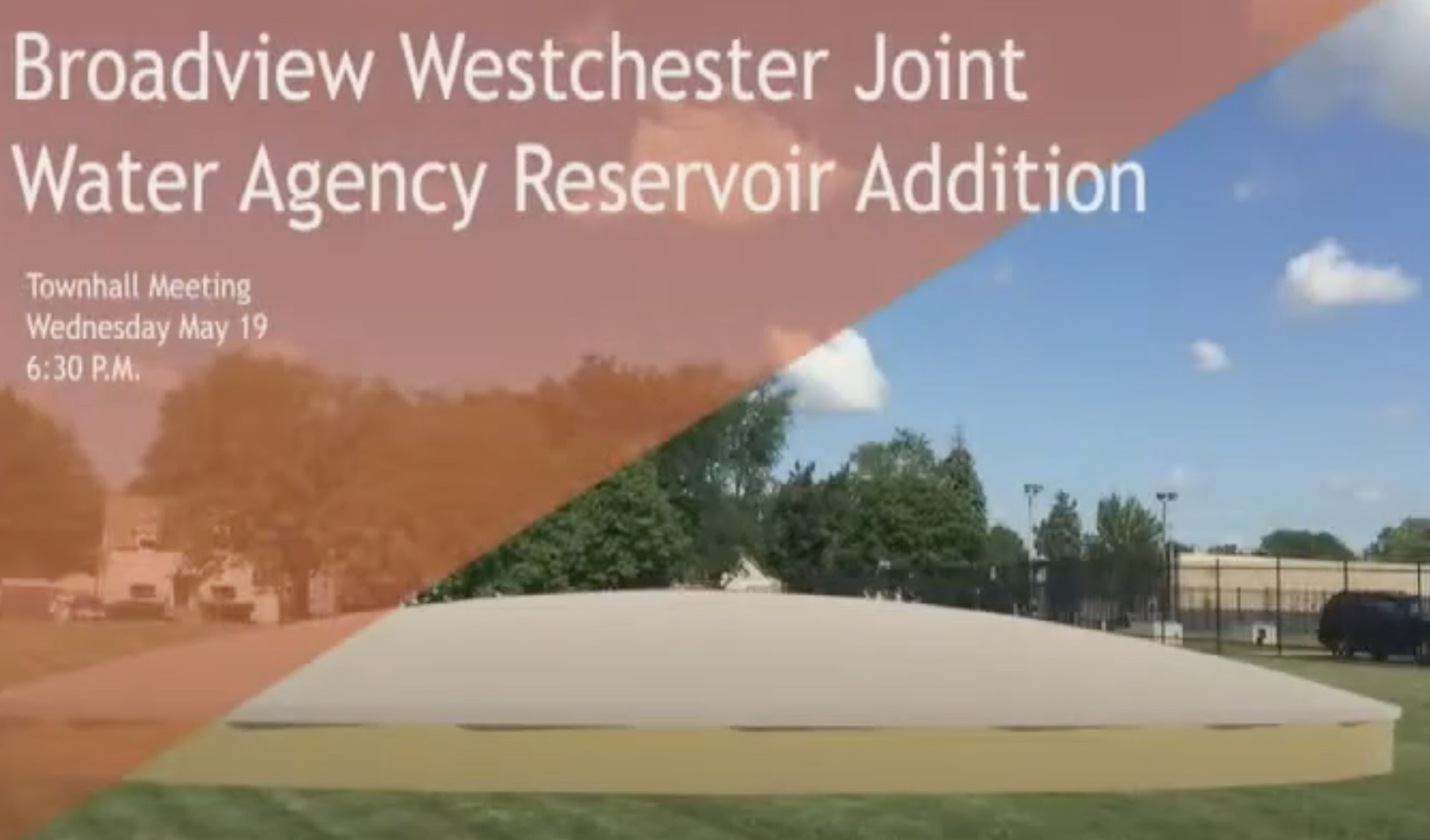 A tentative architectural rendering of the water reservoir planned for Broadview's 10th Avenue pump station. | Ciorba Group 
While the water tower was offline, however, it did not have any storage capacity, so Broadview was dependent on the reserve water supply of Westchester, with which it shares cross connection feeds, in case of an emergency. The water tower's paint job has since been completed.
Ames said the cross connection feeds help maintain water pressure and "act as an emergency feed if, in fact, we were to have a catastrophic emergency, such as a break on one of the transmission lines, which I have experienced at least once in my tenure."
"Guess where we're using water from in case we have an emergency?" said Thompson. "From Westchester. They are supplying us while our water tank is down."
Wesley Barber, who supervises the joint water agency's operations, said on May 19 that, on average, Broadview and Westchester each use about 1.5 million gallons of water a day, while Loyola, Hines and Madden use a combined 1 million gallons a day.
In order to view the public meeting on May 19, click here.