Sunday, August 15, 2021 || By Michael Romain || @maywoodnews 
Over the weekend, thousands of people gathered at numerous family-friendly outdoor events across Proviso Township, most of them drawn out of their homes by the return of the popular Westchester Fest and the Taste of Bellwood. 
Both events have been happening simultaneously since Friday and are scheduled to end today. 
For the events' many attendees, they represented a return to something resembling normalcy since the pandemic halted daily life in March 2020, resulting in the cancellation of many community gatherings, including these two major events. 
A crowd of people at Bellwood Fest on Saturday. | Michael Romain 
"This feels great," said Kristin Creaney, 44, on Saturday. "We're so excited." 
Creaney walked with her young son, Memphis, on the grounds of the Westchester Fest, held in the parking lot of the newly purchased Village Hall facility at 2305 Enterprise Drive. 
"I've been going to this my whole life, since I was 13 years old," said Creaney, of Westchester. "My middle child is almost 15. He came last night with his friends and it was just like old times." 
Memphis Creaney shows a toy he picked up at Westchester Fest on Saturday. | Michael Romain
"It's good to be outside — it feels wonderful," Westchester resident Debbi LaRocco said, as she watched her family rush down the giant slide at the Fest. 
Bellwood Mayor Andre Harvey said this year's Taste is back stronger than ever. This year's event, as in years past, was held on Washington Boulevard, between 25th and Eastern avenues. 
"We had one of the best Stepping of the Stars we've ever had on Friday," Mayor Harvey said during an interview on Saturday. 
"There were maybe 8,000 to 10,000 people out last night. That's the biggest Friday night crowd we've ever had," the mayor added. "There are more food vendors than we've ever had, too. We've gotten nothing but rave reviews."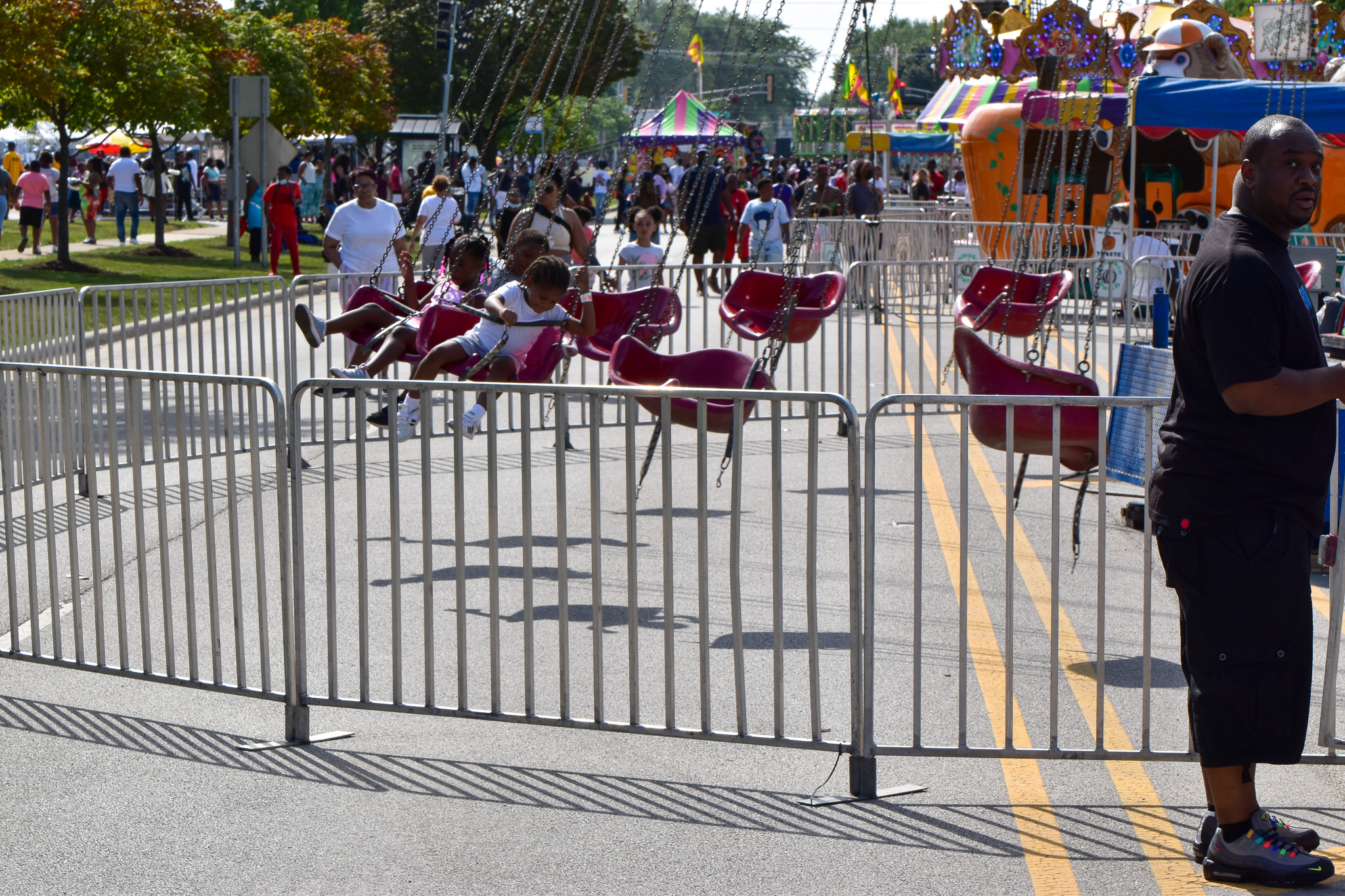 Young children swing during the Taste of Bellwood on Saturday. | Michael Romain 
For Westchester Village Manager Paul Nosek, the return of Westchester Fest this year was also a triumph. In years past, Nosek said, the event was held on the campus of St. Joseph High School in Westchester, which closed permanently earlier this year. 
"With that being sold and getting developed, having the Fest there wasn't an option," Nosek said. "But I've heard people like the fact that the Fest is now on concrete and it's easier to walk on. It provides a slightly better atmosphere. So far, we haven't had any complaints." 
Amid the crowded jubilance, there was, however, a bit of anxiety about the resurgence of COVID-19 in the form of the Delta variant. 
LaRocco said because of the uptick in Delta variant cases, she and her family have been "a little leery" of throwing caution to the wind. 
Community members dining at Westchester Fest on Saturday. | Michael Romain 
LaRocco's concerns were also felt in the cautious optimism of some of the Fest's vendors, who said that they were experiencing a resurgence in sales, but were a little anxious about how the Delta variant may affect their business in the weeks and months to come. 
"People are spending more money than they've ever spent," said William Melvin, who owns Oak Lawn-based Jump Start Novelties. 
Melvin, who is semi-retired, sells his novelties, which include glow-in-the-dark wands and fidget spinners, at events across the Chicago area. 
"I was doing a fest that I've done in previous years and it did double," Melvin said. "Every fest I've been doing has doubled the revenue of [festivals] I've done in previous years. People are spending money.
"But I'm afraid now with the Delta variant that they might shut things down in the fall," Melvin said. "We do a lot of fall festivals, so we're a little worried about stocking inventory." 
William Melvin works the Westchester Fest on Saturday. | Michael Romain 
Jeff and Kathy Nowicki, the married co-owners of J 4 Jumping Beans Party and Event Rentals in Westchester, literally helped build out this year's Westchester Fest. Their company provides things like tents, inflatable bounce houses, carnival games and slides. 
The Nowickis said last year, they pivoted to providing materials for much smaller gatherings, such as backyard weddings and baby showers. They also benefited from increased demand for rentals related to drive-thru funerals. 
"Those became commonplace," said Jeff. "We'd get hired to bring the tents, tables and chairs — same products, but for a whole different kind of event. It's been a moment of reinventing every day." 
Kathy Nowicki at a booth during Westchester Fest on Saturday. | Michael Romain 
This year's Fest, however, represents a return to what's been a tradition for the company. 
"It's so nice to be back," Kathy said. "We've done the Fest since probably [for more than a decade], starting back when our kids were still in grade school." 
Kathy said she worries about the Delta variant possibly upsetting daily life, but doesn't think the lockdowns of last year will return, particularly since people are getting vaccinated.