Thursday, October 7, 2021 || By Michael Romain || @maywoodnews 
On Oct. 2, hundreds of police and emergency vehicles descended on Maywood to pay respects to Illinois State Trooper Gerald Mason. 
The state trooper was found with a gunshot injury Oct. 1 in his patrol vehicle on the Dan Ryan. The following Saturday, Cook County Medical Examiner ruled Mason's death a suicide. 
That Saturday, many Maywood residents noticed fire trucks, ambulances and police vehicles lining 9th Avenue on their way to Cannon Funeral Home, 1001 Madison St. in Maywood. 
Based on Facebook posts, some thought that an emergency was underway. Gerald Cannon, the funeral home's owner, said that he notified residents in the area ahead of time.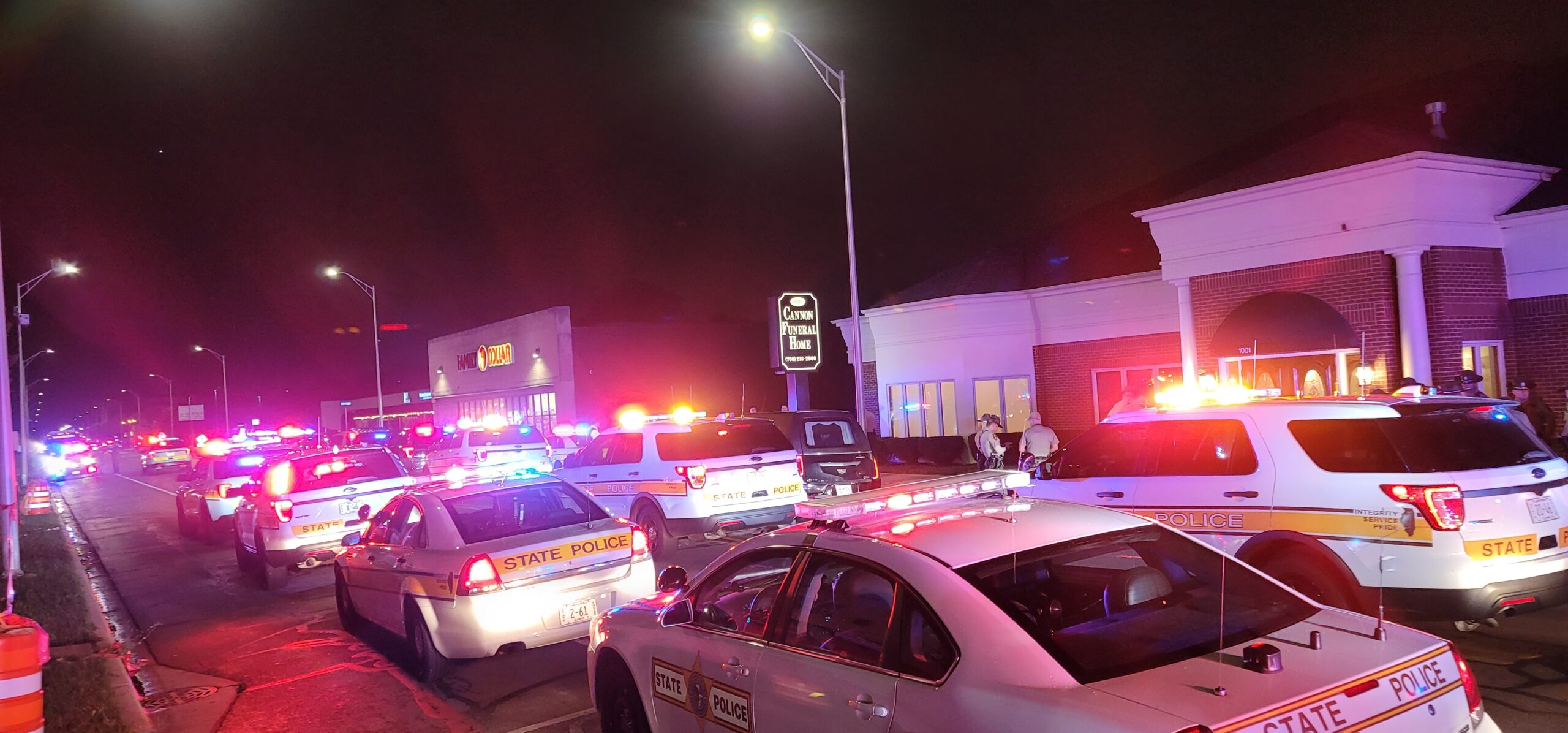 Dozens of Illinois State Police patrol vehicles parked outside of Cannon Funeral Home in Maywood on Oct. 2. They'll be out there again on Friday and Saturday. | Courtesy Cannon Funeral Home 
Cannon said he wants to give people another warning to residents about the vast law enforcement presence that will be around the funeral home on Friday and Saturday. 
On Friday, Oct. 8, Mason's visitation will be at Cannon from 3 p.m. to 7 p.m. And on Saturday, a large procession is scheduled to leave the funeral home at 10 a.m. Mason's funeral will be at Holy Rock MB Church in Chicago. 
Cannon Funeral Home opened in Maywood last year after acquiring the property from the Cook County Land Bank Authority. The property used to be Corbin Colonia Funeral Chapel.
Mason, 35, was a Chicago native who attended Hyde Park High School, according to the Chicago Sun-Times. After high school, he enrolled at Western Illinois University before entering the Illinois State Police Academy in Springfield, according to the obituary available on Cannon's website.
Late Illinois State Trooper Gerald Mason, who died last week. His visitation will be at Cannon Funeral Home in Maywood on Friday, Oct. 9. | Courtesy Illinois State Police 
Moments after Mason's death, Illinois State Police Director Brendan Kelly said troopers like Mason, whom coworkers nicknamed "the Hulk," may "seem like superheroes on many days, but they are not immortal."
Kelly said state troopers aren't indestructible, but are "humans with hearts, minds and souls, as fragile as the next person. They have a breaking point."